Yanrey Uranium Project
Yanrey Uranium District,
Western Australia
The Yanrey Uranium Project is located in a highly prospective Uranium district in northern Western Australia. The project area is fully controlled by Cauldron, encompassing a total area of 1,270 km2 consisting of 12 granted exploration licences. The exploration titles cover 78 km2 of a highly prospective linear palaeo-foreshore, which hosts much of the known uranium mineralisation in the district and is centred on the Bennet Well Uranium Deposit.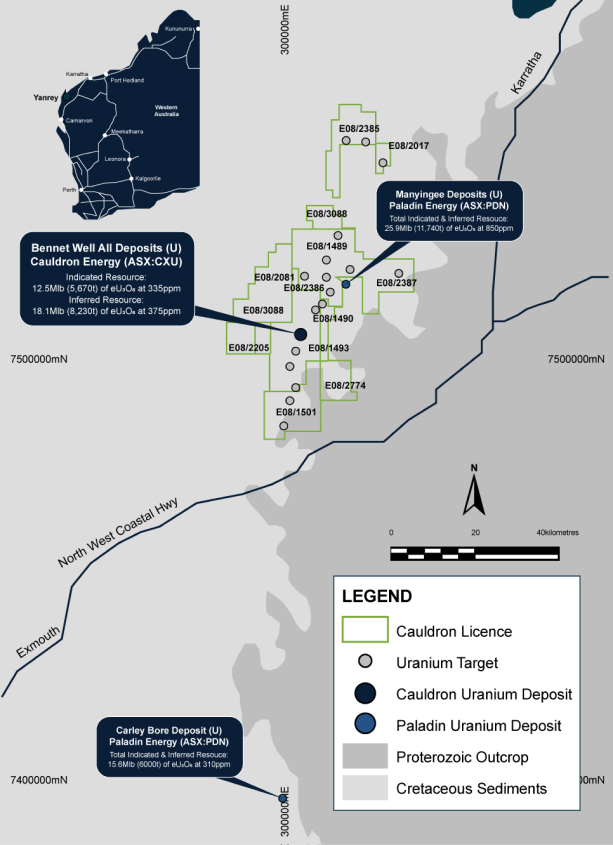 12 granted exploration licences, situated ~70 km south of Onslow, covering a total 1,270km2

100% Cauldron-owned, full technical/operational management by solid team of uranium experts

Hosts the Bennet Well Uranium Resource (JORC 2012) containing total combined 38.9 Mt at 360 ppm eU3O8, for total contained uranium-oxide of 30.9 Mlb (13,990 t) at 150 ppm cut-off

Project situated in a highly prospective, mineral-rich region containing multiple known economic uranium deposits

Valuable and globally significant asset

Amenability to In situ leaching, facilitating a low cost operation and hence increasing the attractiveness of the asset from a development perspective.

Conservative Exploration Target (Yanrey Project) between 21 million pounds and 53 million pounds grading between 300-600 ppm U3O8

Ongoing low-cost, non-invasive, innovative exploration continues to successfully map the Project's extensive palaeochannel systems, allowing continual development of systems-style exploration modelling and smarter generation of drill-ready targets.
The mineral endowment of the Yanrey District remains to be fully tested but is considerable and exemplified by proximal uranium deposits including:
Manyingee Deposit held by Paladin Energy Ltd (ASX: PDN) with an Indicated Mineral Resource (JORC 2012) of 7,127 tonnes grading 850 ppm U3O8 for an estimated 15.7 million pounds of contained U3O8 and an Inferred Mineral Resource of 4,613 tonnes grading 850 ppm U3O8 for an estimated 10.1 million pounds of contained U3O81
The geography of the Yanrey project area is dominated by flat aeolian and alluvial plains, with occasional small relief formed by sand dunes as well as ridges of granitic and gneissic basement.
Drilling completed in 2015 identified extensions to the existing Bennet Well Deposit, the channels of which along with basement topography were subsequently confirmed by the passive seismic results. Recent geological interpretations identified new high-grade uranium zones at a number of regional targets within the project area.
1 – ASX Annoouncement: 14 Jan 2014 - Manyingee Mineral Resources - Amendment